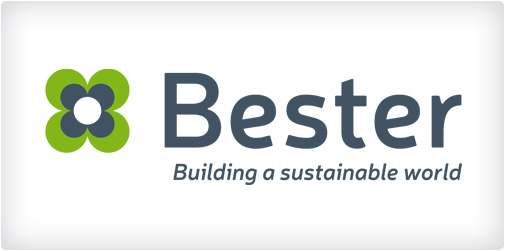 The international holding Bester has been created, and Bester Generación now is a part of the company holding. The new brand has been created with the intent to promote our contribution to sustainable development.
Our claim: Building a sustainable world.
The Bester identity aims to provide an instant identification among the member companies and the parent group and that they all send a clear message of support and sustainable development We generate energy from renewable resources.
Bester is an international corporate group with headquarters in Seville (Spain) that operates in the field of renewable energy, ofering clients turnkey (EPC) solutions, covering engineering, supply, construction, and Operation and Maintenance of large installations and power generating projects based on renewable energy.
The Bester Group dedicates resources not only to EPC and O&M, but also to Planning and Development (Progressum), and to Operation Monitoring and Asset Management.
If you would like more information about the group, go to (www.bester.energy, and follow us on:
ABOUT BESTER
Bester uses various technologies for the exploitation of renewable energies for sustainable development, so that current and future generations enjoy a better life, bringing value to all stakeholders thanks to its excellent quality of service. Bester contributes to environmental sustainability through the Development, Engineering, Construction (EPC), and Operation and Maintenance of renewable energy infrastructures worldwide(www.bester.energy).
COMMUNICATIONS DEPARTMENT
Cristina Gadea Morant
comunicacion@bester.energy
Tel. ( 34) 954 15 95 50